Signature Cocktails
A collection of our mixologists ́ finest creations
Based on your favorite spirit, refreshing lychee juice combined with the sweetness of mandarin and passionfruit. A hint of rose gives the final touch.
Baijiu the 'white spirit' from Asia is blended to a green smoothie drink with pineapple juice, mint leaves and fresh pineapple
Explosion of rich tastes: Homemade Pineapple rum meets creamy mango and fresh lime juice, finished with special fruity tea foam
Gin with juicy peach, fresh passion fruit, vanilla and pear juice
Let fear mingle with the amazing taste of strawberries, bourbon vanilla infused Ketel One vodka and cranberry, an irresistible combo caught in a colorful skull*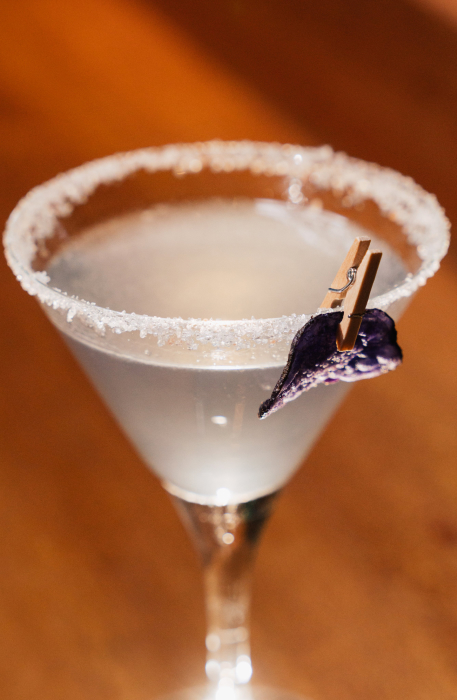 MONSIEUR LAVANDE
Tuya Selection
A collection of our mixologists ́ finest creations
RICHMOND'S BERRY GIMLET
14 €
Refreshing Gin Cocktail with mint leaves and cranberry
Amalfi coast lemons and the mediterrenean sea mixed into a sweet and sour cocktail, cheers!
FASHION DON SALVATORE
14 €
TUYA'S summer old fashion: Bourbon, brown sugar, Averna spray, maraschino and chocolate bitter
Fruity whiskey cocktail spiced with fresh ginger and raspberry
A cocktail similar to the famous Ramos Gin Fizz with basil, white cocoa, cream and egg white
Champagne Cocktail with dark chocolate and port wine
Zero percent
Honey, today I drive (180 mL)
Mint, Ginger, Lime, Sparkling Water
Passion fruit, Lime, Ginger Ale
Strawberry, Thyme, Lime, Sparkling Water
Camomile, Pear, Lime and Tonic
Grapefruit, Lime and Tonic
Sparkling Cocktails
Life happens, a Spritz helps (210 mL)
Red Vermouth, Suze, Rose, Prosecco
Dry Vermouth, Balis Basil, Prosecco
Bergamot Liqueur, Lime, Ginger Ale, Lavender, Prosecco
Lillet Blanc, Wild Berry Lemonade
Mint, Elderflower, Lime Juice, Prosecco
Single Mat
Balvenie 12 YO Double Wood
18 €
Balvenie 14 YO Caribbean Cask
19 €
Bruchladdich Octomore 5 YO
39 €
Glenkinchie 12 YO Lowland
12 €
Glenmorangie 12 YO Lasanta Sherry Cask
17 €
Macallan 12 YO Triple Cask
23 €
Blended Whisky
Chivas Regal 21 YO Royal Salute
40 €
Johnnie Walker Black Label
10 €
Johnnie Walker Green Label
14 €
Johnnie Walker Blue Label
40 €
Johnnie Walker King George V
59 €
American Whiskyes
Jack Daniel ́s Gentleman Jack
13 €
Japanese Blended
Nikka from the Barrel
17 €
Centenario Fundacion 20 YO
14 €
Diplomatico 12 YO Reserva Exclusiva
12 €
Diplomatico Single Vintage 2004
22 €
Diplomatico Ambassador
45 €
Plantation Pineapple Stiggin's Fancy
10 €
Plantation OFTD Overproof
12 €
Pierre Ferrand 1er Cru de Cognac
10 €
Meteoro Espandin Mezcal
15 €
Gin Mare Mediterranean
13 €
Tanqueray Flor de Sevilla
10 €
Carpano Antica Formula
8 €
Dolin Blanc / Dry / Rouge
8 €
Martini Ambrato / Rubino / Fierro
8 €
Soft drinks and Juices
Coca Cola Classic / Light / Zero 0,2l
4 €
Fever Tree Tonic / Mediterian / Bitter Lemon 0,2l
4.5 €
Cofee time
Enjoy the unique single origin coffee beans roasted exclusively for TUYA
Tea time
A unique selection of the finest TWG teas
Fresh ingredients and the simplicity of home cooking. Each dish showcases the true essence of French cuisine.
Food Menu